Frédéric Malle: On Perfume Making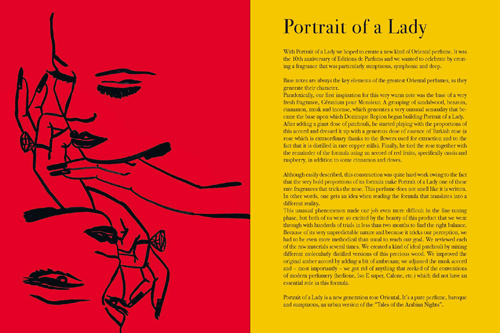 Frédéric Malle was born in 1962 into the world of perfume. His grandfather was Serge Heftler, founder of Dior Parfums. In 2000 he started his own label, the Editions de Parfums Frédéric Malle. He describes his role as that of a publisher. When developing a fragrance, he invites the best contemporary perfumers and gives them the greatest possible freedom, an unlimited selection of ingredients and as much time as needed to compose a scent without compromise. So far Pierre Bourdon, Jean-Claude Ellena, Edouard Fléchier, Olivia Giacobetti, Dominique Ropion, Maurice Roucel, Edmond Roudnitska, Michel Roudnitska and Ralf Schwieger have accepted his invitation. This book tells the sensitive and wonderful tale of these collaborations and describes the complexities of creating a fragrance.
Konstantin Kakanias was born in 1961 in Athens. At age 22 he began working as an illustrator for Vogue, then created textile designs for Yves Saint Laurent and Christian Lacroix. His drawings have been featured in The New York Times and Vanity Fair. He has illustrated several books and in 2002 his book Mrs. Tependris: The Contemporary Years was published. He lives and works as an artist in Los Angeles and exhibits all over the world.
Text: Frédéric Malle
Foreword: Catherine Deneuve
Illustrations: Konstantin Kakanias
Hardcover 30 x 40 cm, 112 pages
Published by Angelika Books
978-3-943287-01-1 (English edition, On Perfume Making)
978-3-943287-02-8 (French edition, De L'Art du Parfum)
978-3-943287-03-5 (German edition, Die Kunst des Parfüms)
Availability Europe: In stock
Availability USA: In Stock
€9,80/$15.00/£8.50

Illustration for Pierre Bourdon's Iris Poudre

Illustration for Edmond Roudnitska's Le Parfum de Thérèse

Illustration for Michel Roudnitska's Noir Epices

Illustration for Jean-Claude Ellena's Bigarade Concentrée
© Illustrations Konstantin Kakanias, 2011.