History
The roots of Angelika's passion for books date back to the year 1872, when her great-great-grandfather Hermann Behrendt set up a shop selling books and art in Bonn. The business is
now five generations on, still family-owned. Angelika has, in short, books in her genes.
Angelika's great-great-grandfather, Gustav Hermann Behrendt (1841-1908).
Founding charter of the book store combined with an auction institute from 1872.
View of the bookstore at the end of the 19th century, when it opened its doors.
Four generations of booksellers since 1872: Gustav Hermann Behrendt, Hermann Behrendt, Dorothea Herbert née Behrendt, her husband Theodor Herbert and their eldest son Manfred
Herbert (Angelika's father).
At the age of 3, Angelika (first to the right) browses the new children's publication such
as Jim Bottom and the Wild 13 by Michael Ende.
Angelika was always an avid reader!
As a child Angelika trained in classical ballet, but was unable to fulfill her dream of dancing in Swan Lake because she'd grown too tall. Instead she danced in two musicals. The poster shows the German production of Sweet Charity, in which Angelika performed as a taxi dancer in 1979.
Then she changed course, studying art history and German literature in Heidelberg, Germany's oldest university, earning her PhD in 1986.
With great pleasure and enthusiasm Angelika worked 23 years, from 1987 to 2010, for and with Benedikt Taschen. During this time she was responsible for numerous books on art, architecture, design, interiors, travel and lifestyle.
Todd Selby's short interview with Angelika for the webpage of SZ-Magazin. It was featured in combination with a home story (This is how Berlin lives) in their printed weekly magazine supplement from April 7, 2011.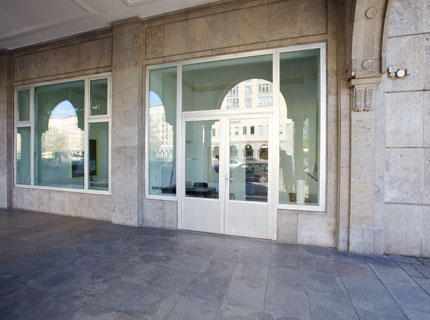 Front view of Angelika's office at Strausberger Platz in former East Berlin. It is located in the "House of the Child" (Haus des Kindes) on Karl-Marx-Allee, the monumental socialist boulevard. It was built by East Berlin head architect Hermann Henselmann in 1952-54.
Interior of the office at Strausberger Platz with a work by Marc Brandenburg
showing Yves Saint Laurent (2007).
In the future, the office will be located in the historical Hofbaudepot, wall-to-wall with the Jacob-und-Wilhelm-Grimm-Library (books again) and just a few steps from the Museum Island (art again), which became a UNESCO World Heritage site in 1999.
© Video: Todd Selby/SZ-Magazin 2011.
© Images 1-7: Angelika Publishers GmbH, Berlin 2011.
© Images 9-11: Oliver Mark, Berlin 2011.